Laparoscopic Surgery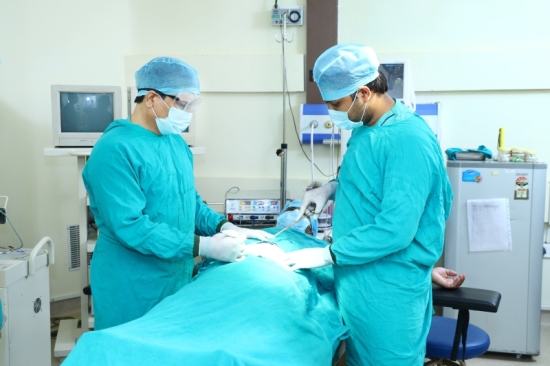 Kathuria Hospital is equipped with the latest laparoscopic equipment and is the center of advanced laparoscopic surgery. Laparoscopic surgery relies on the basic principle of open surgery, but in addition to specialized man ovures and techniques apply to a situation where surgeons work through a small opening without being able to manually manipulate any organs. But the entire sequence is being watched on a video screen instead of wounds.
Laparoscopic procedures being performed include gallstones, ventral hernia, umbilical hernia, inguinal hernia, appendicitis, ectopic pregnancy, hysterectomy, ovarian tumors, liver ulcers, and bowel obstruction.
One main area of ​​the center is minimally 'invasive (' key hole ') or laparoscopic surgery. It has been well established over the years that this form of surgical management allows for a smooth and almost pain-free post-operative recovery and thus it is preferred in surgical management of a growing list of diseases.
Diagnose laparoscopy
Can detect hidden pathology of abdomens
Patient satisfaction is very high
Cosmetically better scar
Less pain